Thermal oil heater highly praised by Zambian customer
Date:2016-05-26
share us:
Product: YLW series thermal oil heater
Sitong boilers are famous of advanced technique, fine process, first class service. We aim to creat value for customers while save the cost. That's why many users oversea cooperate with us. Zambian customer come our factory and check the boiler.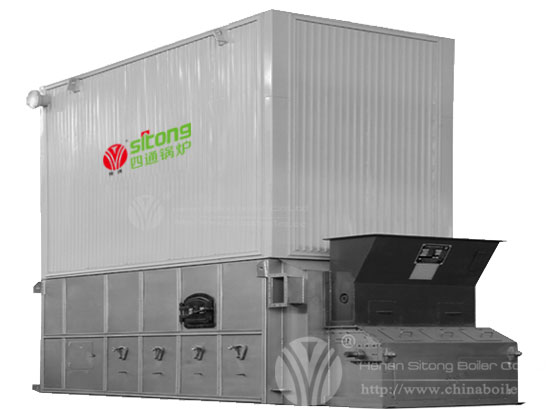 YLW series heater features:
1. Strong adaptability of different fuels
Separated design for combustion equipment and upper furnace, according to the different nature of the solid fuel, furnace can be design inpidually.
2. Highly degree of grate automation
The structural grate is full automatic chain grate.
3. Cubic tube combustion chamber
Boiler combustion chamber is composed of chain grate and back, front arch, with large fuel combustion space, complete combustion, high thermal efficiency.
4. Best coil design
Radiation section adopts the square coil, the convection section coil is made by serpentine, good performance of radiation coil thermal expansion, low stress, safe and reliable.
5. The optimal process design
Three return flue gas, medium flows through the conviction and radiation coils, with uniform velocity, safe and stable operation
6. Sufficient output.
Reasonable heating surface layout, large area, good heat transfer effect, high efficiency, stable output, sufficient.
7. Perfect automatic control on outlet oil temperature, multiple protection and control are set on medium temperature, pressure and smoke temperature to ensure safe and reliable operation.
8. Leading technology in automatic control
Boiler controller adopts Siemens/delixi electric components, reliable in performance. Controller has three forms: normal, LCD display in both Chinese and English menu, touch screen man-machine dialogue remote control.