Safety Device of Sitong Gas Boiler
Date:2019-11-08
share us:
Sitong Boiler has various types gas boiler, these boilers are safe and high efficiency heating equipment with full automatic control system. The gas boilers are equipped with different protection devices to ensure the safe operation.
1. Monitoring of water level. The gas boiler is equipped with water level electronic detector to control the water level.
2. Setting time device. Time can be set based on user's requirement.
3. Electric leakage protection. When there is a electric leakage, the control system will cut off power automatically.
4. Water shortage protection. When the boiler is lack of water, the control system will turn off burner and alarm.
5. Power abnormal protection. When the power is abnormal, the boiler will shut down immediately.
6. Over pressure protection. When the pressure is higher than the setting point, the burner will stop working and alarm.
7. Intergrated gas manifolds and protection system. Include filter, regulator valve, solenoid valves, and safety valves etc, to ensure safe operation.
8. Explosion proof equipment, discharge high energy when deflagration happened in furnace, to ensure the boiler operate safety and efficiently.
9. Flue gas monitoring device. Automatically monitor exhaust gas temperature, know the combustion condition conveniently.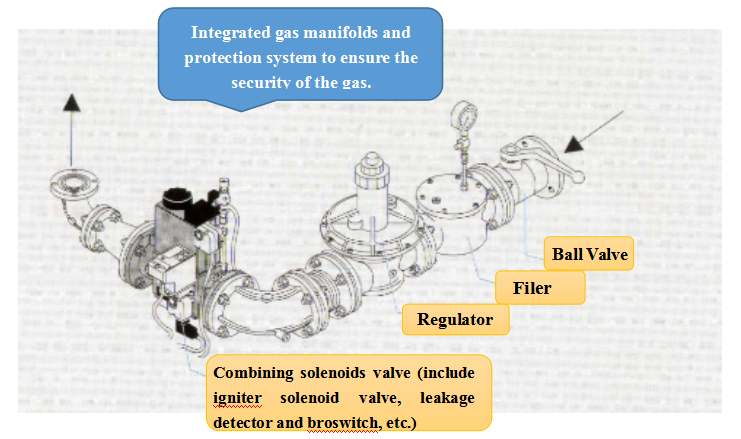 Sitong Gas Boiler Models

WNS Series Fire Tube Gas Boiler
WNS series gas fired condensing boiler is wet back structure with flue gas three pass, widely used for industrial production. The boiler capacity ranges from 0.5t/h~25t/h.
SZS Series Water Tube Gas Boiler
SZS series water tube boiler has double drums, and arranged as "D" shape, adopts membrane cooling wall, has the characteristics of high steam quality, sufficient output, and high thermal efficiency (97%), etc. The boiler capacity ranges from 10t/h~ 50t/h.
LSS Once Though Gas Boiler
The vertical water tube steam boiler is once-through three-pass structure boiler,temperature rises up quickly, and thermal efficiency is high. The flame has two stage, convenient for adjustment. The boiler capacity ranges from 0.1t/h~4t/h.

LHS Vertical Type Fire Tube Gas Boiler
LHS gas boiler is fire tube chamber consumption structure. As this series boiler occupies small area, it can be placed anywhere. It is safe, reliable and popular. The boiler capacity ranges from 0.1t/h~1t/h.