Biomass Steam Boiler Used in Wood Processing Factory
Date:2019-07-11
share us: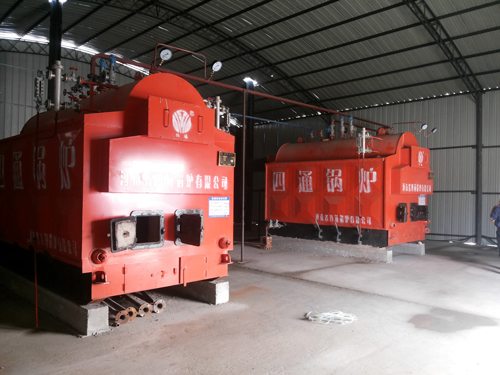 Boiler Parameter:

Model: DZH2-0.7-T
Steam Capacity: 2t/h
Rated Pressure: 0.7 Mpa
Biomass Fuel: wood chips
Application: Wood processing factory
Country: Jordan

Boiler Used in Wood Processing Factory

DZH Series biomass steam boiler is used in Jordan wood processing factory, used for steaming wood and drying wood. The steam boiler capacity is 2ton, and the pressure is 0.7Mpa.

In wood processing industry, steam boilers are widely used for different wood processing, such as drying, hot-pressing, curing, dyeing, sterilizing, etc. Generally, large mounts of small wood chips will be produced during the wood processing, the biomass steam boiler could burn these waste wood chips, change waste into heat energy, which could save customer's operation cost.

The DZH series biomass steam boiler is equipped with moving grate, which should add biomass fuel by hand. Compare with chain grate boiler, hand fired boiler has the advantages of competitive price, has low technique demand for furnace men, wide adoptable of different kinds of biomass fuel, combustion stably, and easy operate and maintenance. However, the hand fired boiler has higher labor intensity, and lower combustion efficiency.

Autocalve Used in Wood Processing Industry

Except steam boiler, wood preservation autoclave is also used in wood processing industry, which is used cooperate with steam boiler. The autoclave is a horizontal cylinder device and it is widely used for wood preservation or other wood processing, such as fire retardant, mothproof, dyeing, coking, and degrease, etc. The autoclave cover uses monoblock Q345R steel plate for compression moulding, to ensure the high quality. Double-side automatic submerged arc welding are used for the weld joint of autoclave cover head and flange, and then heat treatment and strict nondestructive testing are processed for all weld joint of pressure parts, eliminate forging stress and welding stress.

Boiler Company Brief Introduction

Sitong Boiler Co., Ltd was founded in 1978, it is a national approved and designated enterprise, with design and manufacture license permits of grade A boilers and D1, D2 pressure vessels., we have mature technical team, Based on customers' requirement, Sitong Boiler could customize design the boilers and pressure vessels (autoclave, tanks, steam sterilizer, etc.).