15t WNS Series Natural Gas Fired Condensing Steam Boiler is Shipping For Mongolia
Date:2016-09-12
share us: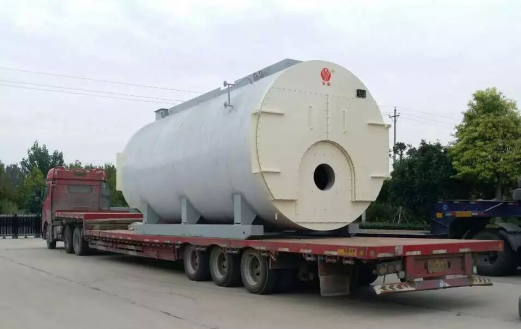 Boiler:
Industrial Natural Gas
Fired Steam Boiler
Country: Mongolia
Application: Milk processing plant
Date: 2016.09
Details of WNS series gas fired steam boiler:
Model: WNS15-1.6-YQ
Steam capacity: 15 tons (15t/h, 15000kg, 10.5MW)
Working pressure: 1.6 MPa (16 bar)
Feed water temperature: 20℃
Steam temperature: 204℃
Fuel: city gas


Background:
This WNS series natural gas fired steam boiler with condenser is used for milk processing plant

.

T

he gas steam boiler is equipped with condenser, use the heat of flue gas to increase the water inlet

temperature

and decrease the exhaust gas temperature.

I

t improves the thermal efficiency higher than 98% and save the operating cost.

M

ore over, the condenser adopts finned tubes, the material of tubes is stainless steel, which avoid low temperature corrosion of steel, extend the working life.

T

he boiler is also

equipped

with explosion-proof device, Simens/delixi electric controller, to ensure the safe and stable operation.
Sitong Boiler is a national approved and designated enterprise, with design and manufacturing license permits of A1, A2 industrial boilers and D1 pressure vessels.

T

here are two factories, the main products of the new factory are oil gas fired boilers. Sitong Boiler focused on oil gas fired boilers for more than 30 years, the operation failure rate of oil gas boiler is lower than 0.1.