WNS series natural gas oil condensing steam boiler takes the advantage of high efficiency condenser and economizer, to absorb the sensible heat in the high temperature flue gas and the latent heat released from the vapor condensation, to improve the thermal efficiency.
WNS Series Gas Oil Condensing Steam Boiler Flow Chart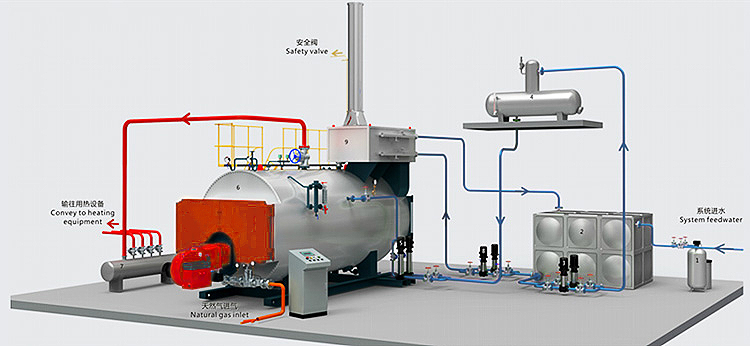 How the WNS natural gas oil condensing steam boiler works?
Natural gas fuel usually contains a lot of hydrogen, which produce a large amount of water vapor . Burning per 1 Nm3 natural gas can produce 1.71 kg water vapor, latent heat of the vaporization is about 4000KJ, occupying about 10% low catorific value of natural gas. When the exhaust gas temperature is too high, water vapor condense and release heat, flows follow the flue gas and cause the waste of heat. Meanwhile, high temperature flue gas also takes a lot of sensible heat, big loss of flue emission. While installed with condenser can overcome these disadvantage and save energy, improve the thermal efficiency.
Characteristic of WNS natural gas oil condensing steam boiler
1. Equipped with condensator and economizer, the thermal efficiency can reach 105%.
2. High quality of condenser, using the stainless steel, avoid low temperature corrosion, long working perid.
3. Condenser is installed on the top of the boiler, do not cover extra space, condensation water on the conduction surface can also flow naturally.
4. Large heating area, warm up and pressure boost fast, easy operation.
5. Adopt the wet back structure and corrugated furnace, greatly improve the heating area and the strength.
6. Equipped with high quality and high performance burner, ensure safe and reliable combustion.
7. The controller dopts Siemens/Delixi electric conponents, high degree of automation on water temperature and temperature, etc.
8. Small size, save the capital investment.