Introduction



Sitong YY(Q)W series gas fired thermic oil boiler is a safe and energy saving boiler with working characteristics of low pressure (1.0 MPa) and high temperature (330℃). It is patent products of Sitong Boiler, the patent number is ZL 2014 2 0508472.3. The heat carrier is heat conduction oil, the circulating pump force heat transfer medium circulating in liquid phrase, and transfer heat to heat user equipment, then return to the heating furnace for reheating.
Owing to its characteristics of high heating temperature, low working pressure, and energy saving, the gas fired thermic oil boiler could be widely used in a variety of industrial heating process. Such as petroleum chemical industry, synthetic fiber industry, textile printing and dyeing, plastic and rubber, paper industry, wood industry, building material, machinery industry, food industry, electrical equipment, coking industry, metal and casting industry, detergent industry, fat and paint industry, carbon industry.





Products Advantages



1. High Quality Assurance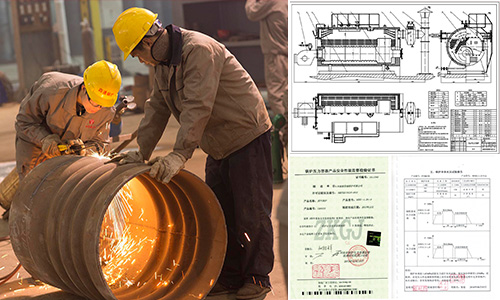 1) There is a professional design engineer team, before manufacturing, every boiler design drawing have to be approved by boiler and pressure vessel experts of CSBTS ( State Bureau of Quality Technical Supervision ), and then the boiler could be produced only if qualified.
2) To ensure the raw materials quality, all the steel plates are special-used for boiler with the Inspection Certificates. The raw material materials are inspected when entering factory, and only the qualified material could be put in storage and used for production.
3) To ensure the welding quality, there a professional welding team, including more than 30 senior welders. The welding materials are stored under constant temperature and humidity, to ensure the welding material quality.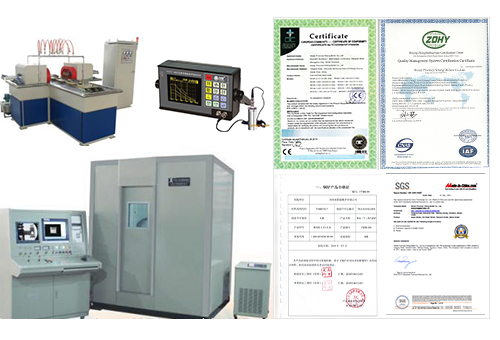 4) The welding quality will be further examined during boiler manufacturing, by using x-ray detection, ultrasonic flaw detection, magnetic test, or penetration test, etc.
5) To ensure the boiler quality, the leakproofness and strength of pressure parts will be tested. The hydrostatic test is done to make sure there are no water drop or water mist leakage appear on steal wall or welding joint, no water leakage appear at the place of expansion, and no obvious residual deformation and abnormal situation.
6) To ensure no problems before boiler delivery, all the raw materials and boilers are supervised and inspected by the experts of Inspection Institution for Boiler and Pressure Vessel. There are international uality certificates of ISO 9001 and CE, we can also offer the inspection report of SGS, BV, etc., Quality Certificates, Energy audit report, and Energy Efficiency Test Report, etc.



2. Safety Assurance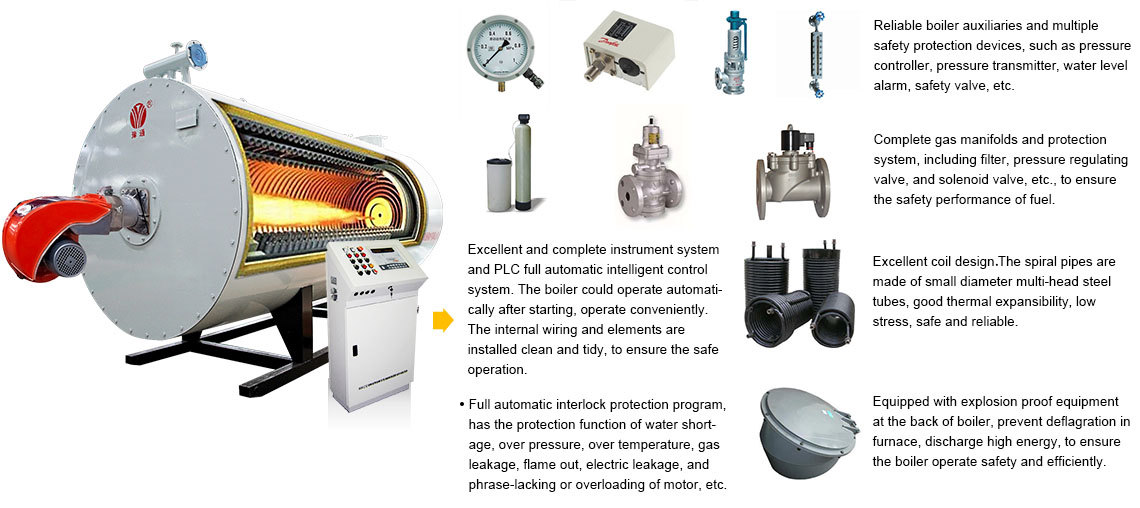 3. High Efficiency Assurance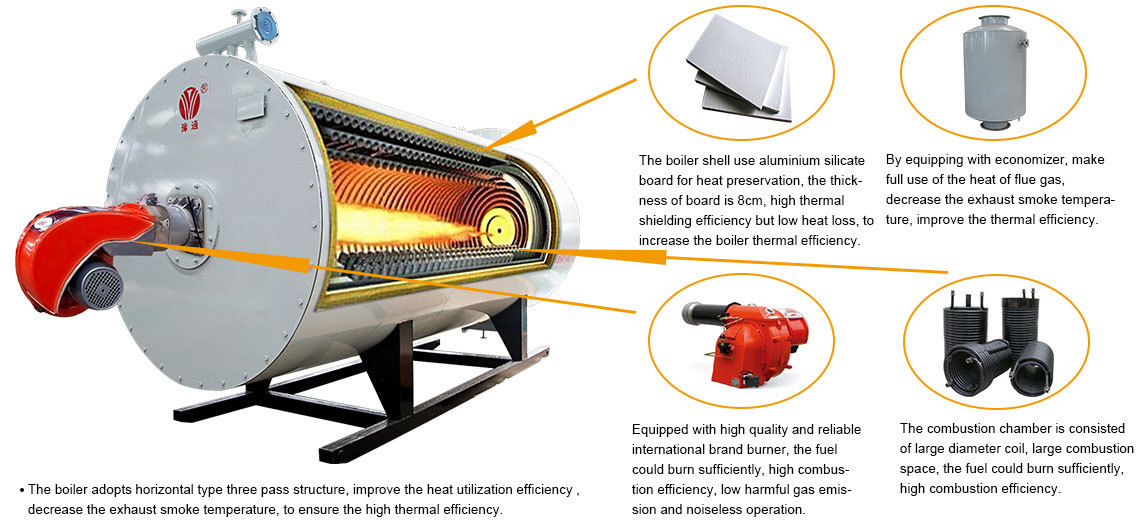 4. Professional Installation and After-sale Team
1) Professional engineer installation team offer the door to door installation and after sale service. The boilers will operate smoothly and safety, and you will get them without worries.
2) 24 hours hot-line to solve your problems, and offer the professional technical supports and after sale service in time to all over the world.



5. Convenient Maintenance
1) There are maintenance holes on the boiler, convenient for boiler internal installation, inspection and clean.
2) The explosion proof equipment has the fire sight glass and inspection gallery, it is convenient for furnace checking and maintaining.